Forward to zero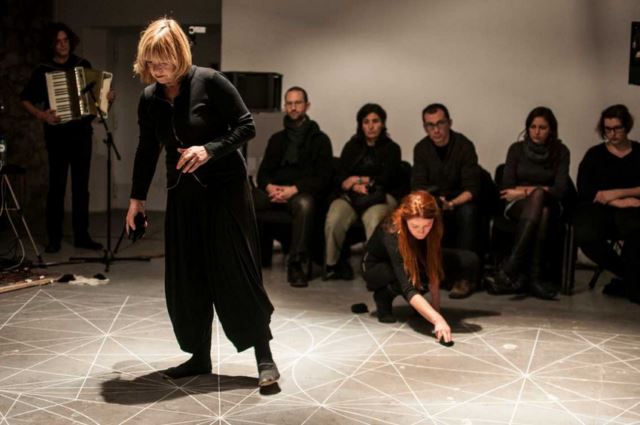 2013 (Saturday November 16th 20:00 hr)
Audio Art Festival  Krakow  Poland  2013

Installation and performance by
Elvira Wersche
assistant Nathalie Pravda
accompanied by Horst Rickels and Robert Pravda on twin accordions

Elvira Wersche will make a drawing on the floor of the museum Bunkier Sztuki with fluorescent color.
Geometric abstraction provides the inspiration for the layout. She creates a dynamic geometric field in the space through the complex division of an ever-recurring circle and a multitude of linear associations.
From what initially appears to be a jumble of lines and figures, there unfolds before the viewer's eyes an ingenious and fascinating spectacle made up of triangles, rhombuses and other irregular polygonal shapes. Numerous focal points create movement. The pattern seems to be in constant motion.

During the performance this complex geometric pattern will modify, little by little new structures appear, clusters vanish.
These interventions will inspire two accordion players to a dialogue around the field. They follow the opposite procedure as the visual artist, their starting point is zero.





---
Contact the webmaster:

webmaster@weltensand.com

Copyright © 2014. All rights reserved.
Last update Friday, September 11, 2020