KWARTS Project in the Cacaofabriek Helmond The Netherlands
From February 10th till March 29 2015
Finishing project: March 29 (15:00 hr)
Dance:  Ibelisse Guardia-Ferragutti
Music: 'Weltenklank' specially composed for this occasion and played by Horst Rickels en Robert Pravda on their sound installation 'The Leslies'.

KWARTS
Klik op de foto.

Opening Kwarts groot succes

Onder grote belangstelling van ruim 300 mensen is gisterenmiddag het nieuwste kunstwerk van Elvira Wersche in de Cacaofabriek in Helmond "geopend".
Dit kunstwerk is nog te zien tot 29 maart 2015. Omdat dit een zg "Work-in Progress-project" is kunt u Elvira nog regelmatig aan het werk zien.

Gulle donateurs krijgen zowel het boek als een miniatuur kunstwerk en ook nog een vrije toegang tot de spectaculaire afsluitende performance op 29 maart om 15:00.

U kunt nog enkele dagen via voordekunst het project steunen om een kunstboek te realiseren over alle Sammlung Weltensand projecten van de afgelopen 12 jaar.

Chocolate with Kwarts patern!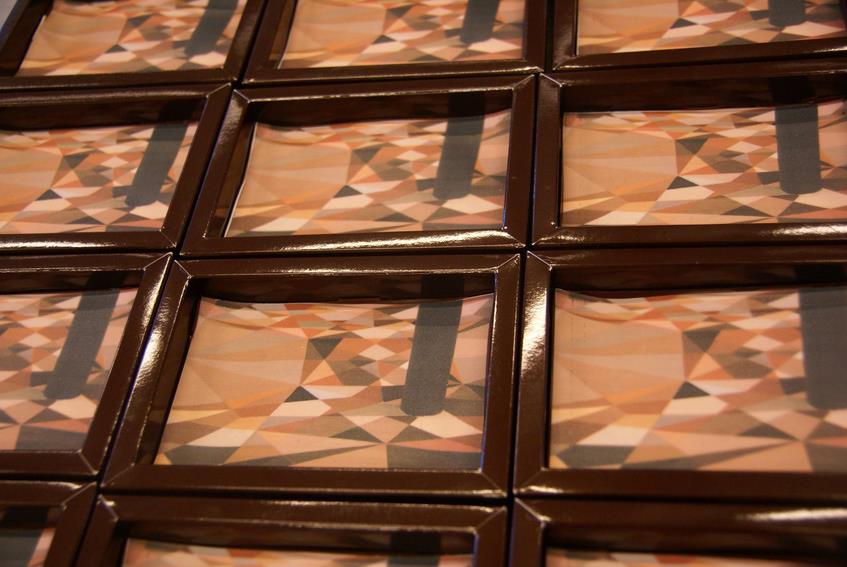 You can buy nice and beautiful chocolate bars with Elvira's Kwarts patern on it in the chocolate shop in the Cacaofabriek.

Cacciucco

Joost Overhoff schrijft in zijn Spotlight over Kwarts.
Klik op het Cacciucco logo.

Elvira & Horst on Radio Helmond
March 3 2015 Press the button and listen.